9th International Clinic Young Players Veroia 2008 C.V.
Sito Alonso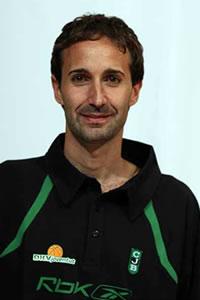 Sito Alonso will teach two special subject in the International Basketball Clinic for Young Players, which will be held by the Greek Basketball Coaches Association in Veroia (13-14 of June).
Dribble: the Basis of Offense" and "Avoiding resting on the court" will be the topics of his lectures. In his first lecture he will make a different approach to the subject "Dribble", underlining that the improvement of dribbling, leads to an overall improvement of the player. "The hand, positions", "the importance of the feet", "uncertainty", "lateral dribbling", "passing after dribbling" will be the parts of the teaching, before entering in drills and the questions from the audience.
The second lecture is related to the player's resting on the court and how to avoid it. It includes parts as "2X1 (offense-defense), "if he stops, I stop", "resting in my zone", "he rests, I rest", "changing positions", drills and questions.
Alfonso Alonso Blasco (his full name) has been for the last three years the assistant of Aito Reneses in Joventut Badalona. He has worked with and elevated some of the great talents of Spanish basketball, such as Ricky Rubio and Rudy Fernandez.
He was a natural born… coach. Despite the fact he is only 33 years old he has put up many years of experience at the bench. He started his career is Zaragoza, before even he had finished school.His first coaching experience was the school team of Compania de Maria. From a young age he worked at the junior teams of Zaragosa and Monzon. From 2005 until the last season we was a member of Badalona's coaching staff.
He has won two European titles (Eurocup in 2006 and ULEB Cup in 2008), the "Copa Del Ray" (2008), Catalonia Cup (2006) with Badalona and he has celebrated many titles in the local leagues of Aragonia, where he is considered the most successful coach in recent history.
Until now Sito Alonso was the assistant of Aito Reneses, but he will come to Greece with and advanced role. Since the last couple of days the 32-years-old is the new head coach of Badalona, which wants to maintain its philosophy of supporting the next generation.
As it is widely understood the Spaniard coach is the most suited to teach in the first of the two International Basketball Clinics for Young Players that are held by the GBCA this summer (the other one will be in Patras on the 20th and the 21th of June).
Steve Spencer
Steve Spencer was born in San Francisco on the 24th of April in 1960 and has been working from 2001-2002 as the head coach of Orange Coast University. He has led the Pirates three straight winning seasons, including the team's first playoff win in 20 years.Prior to Orange County he spent five years as an assistant of coach Steve Lavin in UCLA. With the Bruins he has averaged nearly 23 victories a year and has advanced to four consecutive NCAA Tournaments, including the 2000 and 1998 "Sweet 16" and the 1997 "Elite Eight". In Spencer's first season (1996-97) at UCLA, the Bruins captured their third consecutive Pacific-10 championship.
Earning a reputation around the country as one of the top one-on-one workout coaches, Spencer, 48, came to UCLA after three years of assistant coaching in the Australian National Basketball League. From 1994-96, he was an assistant with the Adelaide 36ers and from 1995-96, he was also the head coach for the North Adelaide Rockets club team.From 1989-94, Spencer was an assistant coach at California Lutheran University in Thousand Oaks, under then-head coach Mike Dunlap. During that time, the Kingsmen won three conference titles and made two appearances in the NCAA Div. III Sweet 16. In 1993, Cal Lutheran was ranked No. 1 in the nation for several weeks.Before entering the college coaching ranks, from 1985-89, Spencer was an assistant varsity and head junior varsity basketball coach at his alma mater, Sir Francis Drake High School in San Anselmo. While at Sir Francis Drake, from 1987-89, Spencer was also an assistant men's and women's varsity tennis coach.
Spencer, an accomplished camp clinician, is the coaching director of UCLA's basketball camps during the summer. He has been director and lead clinician for the Lavin, Dunlap, Pump and Shot Doctor Basketball Camps and lead clinician and coach for the Magic Johnson and Pirate Basketball Camps. From 1987-89, Spencer was the commissioner of the Nike/ARC Basketball Spring League in Marin County, CA and the Sir Francis Drake High School Summer Basketball League.
As a player, Spencer accumulated experience at the collegiate, junior college and high school levels. In 1984, he was a starting guard at Sonoma State in Rohnert Park and also lettered on the varsity track team as a distance runner. Before transferring to Sonoma State, Spencer attended the College of Marin in Kentfield, CA. While at the College of Marin, he was a starting guard from 1979-81, earning All-League honors in 1980-81 and was voted the team's Best Defensive Player from 1979-81. Spencer was a standout prep guard at Sir Francis Drake from 1976-78. In 1977-78, he earned first-team All-League and was Sir Francis Drake's captain and Most Valuable Player.
Three of UCLA's four coaches all attended Sir Francis Drake High School. Spencer was a senior in 1977-78 and Bruin head coach Steve Lavin and assistant Jim Saia were seniors at Sir Francis Drake in 1981-82.
Spencer earned his Masters Degree in counseling and guidance from Cal Lutheran in 1993. He graduated with a Bachelor of Arts degree in physical education from Sonoma State in 1985. In 1986 at Sonoma State, he earned his teaching credential in physical education with a biology supplement. In 1981, he earned his A. A. Science degree from the College of Marin. While at the College of Marin in 1981, Spencer also received the Male Scholar/Athlete Dr. Harry Hensler Scholarship Award.
An accomplished writer, Spencer has had several coaching and instructional articles published by the National Association of Basketball Coaches and Winning Hoops. As a senior at Sir Francis Drake High School in 1978, Spencer was a winner in the Quill and Scroll National Sports Writing contest and earned recognition in the sports writer category from the Press Club of San Francisco.