"Basketball Coach" No28 is ready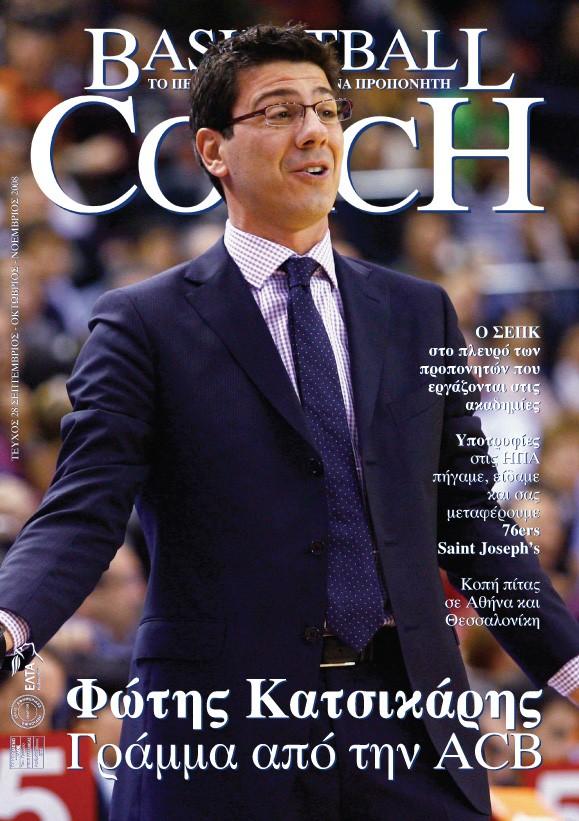 The 28th issue of "Basketball Coach" went on circulation. The magazine features a deep confession of Fotis Katsikaris, revolving his experience from the ACB. The Greek coach doesn't hesitate to make the comparison between Spanish and Greek basketball, while on the same time he proposes points of view and movements that will allow the A1 League make a step forward. In the same issue you can find the papers of our member about their recent trip to the States (practices of the 76ers and Saint Joseph) and a photostory of the GBCA's scholarships.

Giorgos Vlassopoulos, the coach of the National U18 Team breaks down the offensive and defensive philosophy that led his team to the top of Europe. Marios Despotakis writes about the 1on1 and its practicing technique, using a lot of diagrams and details.
Also: An article of Ettore Messina about his collaboration with his assistants. "My team inside the team" writes the Italian coach in his personal blog, explaining what head coach and assistant coach means.
There is also featured an article about the energetic thesis of the Association when it comes to the coaches of Youth teams and another on about the New Years Celebration in Athens and Salonica.
For second straight issue "Basketball Coach" hosts the column of the Players named "the corner of PSAK".