Itoydis analyzing in sepk.gr the Cup's final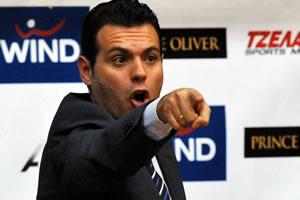 The winner of the Greek Cup, Dimitris Itoudis, talked to sepk.gr for the final against Olympiakos, analyzing the key points that judged the game, while he didn't hesitate to refer to the upcoming championship game.
"Without doubt our defense in the second half was the key for our victory. We controlled the "air", which means that in the first half we gave away many second chances that hurt us. In the second we managed to control the rebounds.

It was important that in the second half, when we scored 27 points, we have good team defense, without going in a lot of rotation. So we close the lanes, we had help from the weak side and we didn't have to rotate, which allowed us to avoid miss-matches in the rebounds.

Offensively we identified the opponent's weaknesses and "struck" in positions and players we thing we have an advantage. We scored big baskets with Diamantidis and Perperoglou. In the big picture our guards did an excellent job. The were really mature, they created, they executed and held the proper distance. Jasikevicious, Diamantidis, Spanoulis and Perperoglou were exceptional in those three areas" was the first words of Panathinaikos's assistant coach.
To continue: "It was not an up-tempo game, on the contrary. The pace of the game was slow, something we didn't like. We will try to change that".
In a week the two teams will face each other this time for the championship in the Peace and Friendship Championship. Dimitris Itoudis was clear that the one game is not related with the other.
"The cup game has nothing to do with the one for the league. Both teams will have fresh memories of the recent encounter and we will have to work on our game: in what we did correctly and in what we have to improve and on our opponent's game. We will analyze the cup game and try to show an improved playing style in the championship match.
The characteristics of the next game are not the same. We will play in a gym filled with Olympiakos's fans and in a neutral one like Elliniko. On Sunday we played a knock-out match. The difficulties are a lot because we are facing a team with a full roster like Olympiakos and because we won, doesn't mean that we have to sleep on it".