The final roster on Monday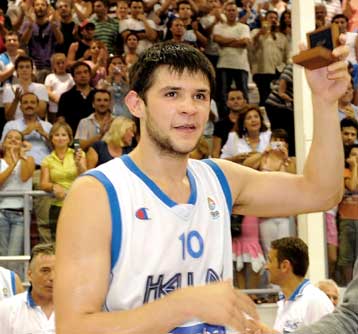 Jonas Kazlauskas will decide about the final roster of the Greek national team who will travel in Poland for the Eurobasket 2009, after the tournament in Slovenia The Lithuanian coach said that there is enough time to take the right decision, and there is no reason to cut right now  two more players of the team. The tournament in Slovenia will start in Saturday and in Sunday are the last games.
"My decision is to keep 14 players at this moment and I will take my final decision after the tournament in Slovenia" Kazlaouskas said and he adds: "We have enough time to do the right thing and to choose the final roster for the european tournament. For sure this decision is clearly difficult".
For the game against Russia in "Akropolis" tournament Jonas Kazlaouskas underlines: "The injure of Perperoglou gave as the potential to test some new choices in position "3". We saw Papanikolaou and Kaimakoglou also as small forward and the conclusions were good. Kaimakoglou was deductive near the basket and Papanikolaou was good on the perimeter. Both of them help the team and this was the most important think. We can calculate in them".