Messina: "Tough times"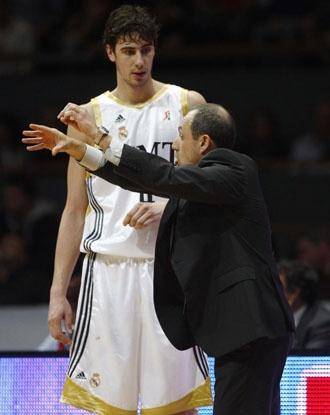 Right before he returned to his home-country in order to face Siena, the coach of Real Madrid, Ettore Messina, gave an interview in "Marca", in which he talked about the potential of this team and to the things the players have to do in order to win in Italy.

"I said before the game against Maccabi that it is very important in our group to win an away game. It is a tough group with good teams and the standings will be judged at the end by one victory or one loss.

In Siena we expect a hot atmosphere, because the want the win badly. Especially after their loss in Turkey, they cannot afford another bad game. Their president had a fight with the referees and all the conditions are not good for us.

We have to stay calm and concentrated in the game. Defense will be the key of the match in my opinion and we have to seek for easy baskets on the fast-break. That was Siena's problem in Turkey. They didn't manage to play good defense and run their game. We mustn't allow them to move the ball quickly and find rhythm. It is essential to press the ball. We have to play good defense for 41 minutes, not even 40.

Reyes participation in the game is in doubt. I think that Lavrinovich can fill his shoes, by playing more minutes in the game. We also have Tomic who as time goes by he reminds me a lot of Rasho Nesterovic. He is a player with personality, despite the young of his age. That is shown by the way he is speaking to his teammates. I hope that he will have the same career as Rasho".