"Congratulation for the achievement"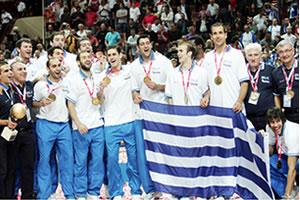 The Greek Basketball Coaches Association sent a letter to the Federation, to congratulate the coaching staff and the whole Greek National Team for the success they had in the European Championship of Poland.
"The Greek Basketball Coaches Association wishes to congratulate the Greek Men's National Team for the HUGE success they had in the final round of the European Championship in Poland. It is another great achievement for Greek Basketball, which can be translated by the first bronze medal after 60 whole years and by the fact that the Greek team -despite all the difficulties- managed to hold its position in the elite.
The GBCA wants to congratulate the coach and his assistants for their terrific job, and wants to give credit to the players, all the members of the team and the administration of the Federation.
The Greek coaches are also wishing for even more successes in our "national sport".