A clinic with passion and depth in Patras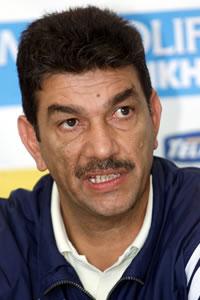 The impressive lectures of the experienced coaches were on the spotlight during the 10th International Clinic for Young Players in Patras (20-21 of June). Kostas Petropoulos, Luca Banchi, Steve Spencer and Giannis Christopoulos talked with passion, in depth and with a lot of details for the tender age of basketball.
Coaches from all over Greece (Thessaloniki, Eptanisa, Agrinio, Athens and the entire area of Peloponnisos) attended the lectures in the stands of the gum of Esperos, which was ideal -and quite hospitable- for the second Clinic of the GBCA this summer. All of them had the chance to learn from experienced coaches, who talked about their philosophy.
The assistant coach of Siena (who won the Italian championship), Luca Banchi, used a lot of details referring to the technique and tactic of passing and moreover to the individual defense. He showed a playbook full of original -thus simple- drills. The American coach, Steve Spencer who also lectured in Veroia, impressed everybody with his passion and energy. We talked about subjects such as ballhandling and one-on-one offense.
The ex coach of Apollonas, AEL and Olympias, Giannis Christopoulos, presented the "methodology of teaching the individual defense". He showed bites and pieces of his own philosophy, underlining the details and the way of demonstrating some technical parts.
Lastly, the former coach of the national team, Kostas Petropoulos, in his own lecture he talked about the "methodology of teaching the jump shoot", vitiating the theory that this kind of teaching refers only to boys above a certain age. In the demonstration team there were players between 9 and 22 years old (boys and girls), who were the living proof that with the proper (and hard) training everybody can execute the jump shoot in a perfect way.

"We want to thank the lecturers for their passion. I hope that all of us will showcase the same passion in our teams" said Kostas Petropoulos. Besides the experienced coach and all the lecturers the Greek Basketball Coaches Association also honored the president of Esperos Patron, Mr. Marlafekas for their hospitality.
Basketball Coach Ενότητες Άρθρων