Monthly meeting in Salonica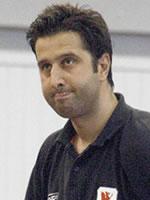 In the monthly meeting of the GBCA which was held last Monday (16th of March) in our offices in Mikra, Fotis Takianos was the lecturer.
 The meeting started with coach Mouratidis referring to the playing and coaching career of the lecturer.
Coach Takianos in his two our speech we talked about offense and defense at the low post. He analyzed the one-on-one offense and the defense on the same position, proposing solutions that have helped him during his coaching stint in Panorama and Rethymno.
After that he answered questions from the coaches and the conversation involved a lot of details and conclusions over the subject.
The meeting was concluded with coach Rodopoulos talking about the success of the clinic in Xanthi during the All-Star Game.