The GBCA and the Player's Union gave away presents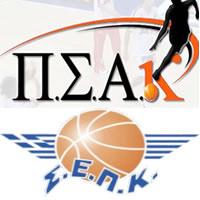 Members of the Greek Basketball Coaches Association and the Players' Union visited the Christodouleio Foundation in Chaidari, giving away presents and... smiles to the young kids.
The coaches were represented by Elias Zouros and Alekos Daglas, while the player were represented by: Manolis Papamakarios, Kostas Charalabidis, Thodoris Sioutis, Antonis Mantzaris, Vaggelis Margaritis, Aggelos Siamandouas, Christoforos Karavolas, Michael Bramos, Laourinas Mikalaouskas, Thodoris Tsiotras.
Elias Zouros: "On behalf of the Coaches' Association I want to note that we will stand by every move and every action that the members of the Foundation will take. We want to help them, not only during the holidays, but the whole year. I wish to all the girls and the members of the Foundation Merry Christmas and health above all".
Alekos Daglas: "As a parent and a teacher I feel really touched by these kind of visits, that give us the opportunity to help the kids and show that sports is not only about training and games, but it is also about social actions and giving to our fellow people. I want to congratulate the members of the Foundation for their efforts to make all these children happy".
Vaso Manousi (Principal of the Christodouleio Foundation): "We want to thank the Players' Union and the Coaches Association for their help over the last few years. Unfortunately all the help we are receiving is from people and not the government".
Basketball Coach Ενότητες Άρθρων