They gave away presents in Larissa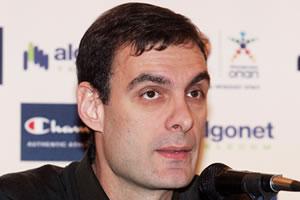 The "week of love" that began -with the team effort of the GBCA, the players' Union and ESAKE- last Friday in Athens, continued Monday morning in Larisa. Representatives of the Greek Basketball Coaches Association visited the "Center for Protection of the Handicapped "Aristeus" and gave away presents and precious moments of joy right before Christmas.
The GBCA was represented by the General Secretary Thodoros Bolatoglou, the Accountant Socratis Eliadis and Giorgos Bartzokas of Olympia Larissa. "It is important for us to be here these days and hand presents and a bit of joy to these children" said the Greek coach who has grown "roots" in Thessalia.

The Players' Union was represented by Kostas Alexandridis and Nikos Spanos from the administration board and also by Pantelis Papaioakeim, Markos Kolokas, Marios Batis, Vassilis Giannoulakos, Alexandros Sigounas, Sotiris Karapostolou (Olympia Larissa), Giannis Lappas, Torin Franchis and Fanis Papakostas (AEL).

The next "stop" for the "week of love" will be Thessaloniki.
Basketball Coach Ενότητες Άρθρων