Messina writes about the Christmas Holiday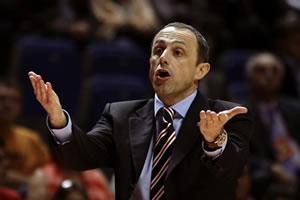 Ettore Messina writes in his personal blog, in the Russian newspaper "Sport" about the seasonable subject of the Christmas holiday and the way a coach must deal with the relaxation of the time and the way that he can get his team in shape.
Analytically
"In December we give our players 5-6 day vacation which is quite unusual. The break started after the away game with Siena, and we resumed our training program together in the evening of December 27 (Russian players were back on 26). We let our American players fly home on December 20 so that they could stay with their families for Christmas. For people from Western Europe and America it's a big holiday, which is different from Russia.
I remember my first year with CSKA. I was looking forward to going home for Christmas and seeing my family after having stayed in Moscow for 3 months. On the other hand, I was extremely worried that 5-6 days of rest might completely destroy our team that was fragile at the moment. I knew that my players worked very hard and it was the habit of the club to provide Christmas vacations to the players. Myself, I wanted to go home for a little while and it convinced me to give the players 5 days off.
Back then Christmas break helped us a lot mentally. We were all under a big pressure: the players, the club, myself. We made many changes and things weren't working out the way we expected. We had a few injuries and we lost three games - to Panathinaikos, Siena and Spartak Saint-Petersburg - which resulted in some doubts, even inside the team. The 5-6 days' rest allowed us to switch off and relax a little bit. It doesn't mean that we immediately had a much better atmosphere after coming back, but it's the case when you have to see in the long perspective. Plus we considered a good idea to provide our players that were busy with their national teams during that summer with extra vacations. For the majority of them it was a five and half months' season up to that point.

We've always had the Christmas break since then. Every season we were lucky and clever to win the last game on the road before these vacations. It brings good atmosphere and helps everybody to enjoy the vacations to the full without carrying the burden of a loss. This season our win against Siena sealed an undefeated month, so it was a very good moment to take a few days off.
When you give vacation time to the players, you need to trust them. I'm sure my players will do a little bit of running or lifting some weights to stay in shape. After trying it for three years I know that the major reward of the break is not physical, but mental. It gives us the opportunity to relax for a while before the second, most important part of the season.
Also the break comes in the right moment for those who played for their national teams in the summer. Most of them have been practicing and playing since July. It's not a coincidence that Papaloukas, Savrasenko and Smodis got injured almost at the same time and some other Eurobasket participants decreased dramatically their performance level. All of them played a lot of minutes in Eurobasket and during preparation in the summer and have to pay this off by having physical problems right now.
Honestly, I learned with the years that sometimes injuries could be for the better. Small injuries that put the player out of game for 2-3 weeks help him to recover physically, mentally, revitalize him. He returns with a greater desire to help his teammates and put in more energy and effort.
We never had a break in Italian teams I coached. This is a big difference between the Russian and Greek leagues on one hand (last year they even had a longer break than us), and the Italian and Spanish leagues on the other. In Italy and Spain they try to follow NBA. They believe they have to deliver the show to the people who are on vacations. They play on 22nd of December and then on 27th and again on 30th, which means that you have no chance for a break and that you should be practicing on 25th.
As for me, Christmas is not only a normal holiday like, for example, New Year (neither my players, nor I have any problems practicing December 31 or January 1), but it's also a religious holiday. Practicing on December 25 is something abnormal. But we had to do it many times in Italy. In NBA they even schedule two or three most interesting games on Christmas. I respect this, but I totally disagree. It's the matter of respecting the other cultures. Every year I try to set practice earlier for Thanksgiving to let my Americans celebrate and have a Thanksgiving dinner. Probably, with a turkey. I think it's important that we try to look at one another and respect our traditions.

In Italian football league, as far as I know, there is also a Christmas break and many players go to the beach, to Maldives, for example. Many teams in Russia give their players the Christmas break. I know that Triumph splits the vacations in two - the foreigners take it for Christmas and Russian players take it for New Year. Personally, I'd prefer to have a break altogether.
Now let's discuss what should be done to get players in shape when they come back. First, as I said, you have to trust them and I'm lucky to have players who are professionals and do not exceed with food, drinking or rest. They know that that would be difficult for them to get back in shape if they completely relax in that moment.
If you want to make your players work extremely hard because they had rest before, I think you make a mistake. They might get over-tired and might get injured again. We help them to start working on their body with the help of our strength coach Gosha Artemiev who is very experienced. They work for 2 days just to feel their body. We have two practices a day, but we don't want to over-exhaust them. We dedicate more time to the individual part of the game, like dribbling, shooting, individual exercises in defense to restore the abilities of their legs and their muscles. Defense on the ball, defense away from the ball, boxing out situations help them to feel the contact, to play again with it.
After 5-6 days without the contact, without competition, it's difficult to find balance between the desire of playing and the fear of excessive contact. It's very important to find the right way to help them to re-establish their normal level of tolerance to contact, both on defense and on offense. You need at least two practices to achieve that.In Euroleague, there is a high level of contact and sometimes when you play on the road the game might become rough.

Playing with a contact requires mental preparation, rather than physical. Once you start suffering or getting upset when your rivals constantly bang you, push you, use their forearm against you or try to stop your cut with the use of their body, it means you are not ready mentally. You will not only get beaten, but you will feel confused and overwhelmed by that. You will have a tendency to overreact, exaggerating the level of contact on the next occasion and get foul, eventually.
A clever player, when he is on vacation, switches off mentally (which is the most important part) and works a little bit on his body - jogging, weights, push ups, sit ups and so on. When he comes back, he must turn on mentally first of all. Turning on mentally starts by concentrating on the basics of our game, the individual fundamentals with or without the ball. This is what we work on from day one. Start feeling their body again, start feeling again how to use their body with the ball and with the opponent.
Shooting, dribbling and passing come back quite easy. I noticed that if you're a good shooter and you didn't shoot for a while, usually when you get back the first day you shoot with a great percentage. The contact, the mental preparation to the contact and the timing on offense and defense require much more attention.
Obviously, we dedicate a part of our practices to modeling our game. I don't know yet how we will play next several games. The lack of shape might be good for us in the way that now, to win, all our players should be extremely focused.
In January and the beginning of February we have a whole lot of incredible games. We play all our best opponents in the Russian league and Euroleague. We have three away Euroleague games. So, if we want to secure our first place in Group A, we should win all of those games. And, as you know, we will still be playing without Matjaz.
We enter the part of the season where the atmosphere in the team becomes crucial. Two months ago we were playing bad, without chemistry and with many doubts in our heads. Now, we have a much better idea of what we have to do and how to do it. Many players raised their level. When Papaloukas and Savrasenko will be ready for 100%, we will have the depth that will allow us to be consistent through the Top-16 and the rest of the season".