The rendez-vous of the coaches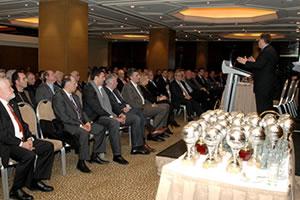 The Greek coaches will have the chance to whish "a happy new year" in the first event of 2009. Everything is ready for the annual "vasilopita" custom of the Greek Basketball Coaches Association (in Athens), which will be held on Tuesday afternoon (20.30) in the Athenaeum Intercontinental hotel (Siggrou Av. 89-93 in "Afroditi Hall").
Also at the event the Association will honor the coaches who succeeded last year (season 2007-2008), Soulis Markopoulos the "coach of the year" and Diamantopoulos, Koumanakos, Koutsoukos, Vlanti and the Congressman Andreas Loverdos.
The administration board of the GBCA and its president Panagiotis Giannakis invites all he member to participate in the event, so that they can put their hands together for the coaches and make the wishes for the new year.
Basketball Coach Ενότητες Άρθρων