Pat Summit and men's basketball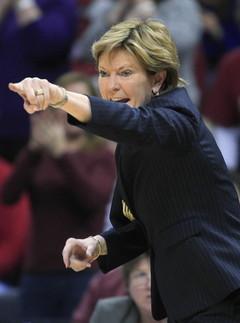 In american college sports the coaches are not only the stars, but they often become subject of study. Pat Summit is considered the living legend of women's college basketball and already the fans hope to see her in a men's team. The internet newspaper "Express Times" presented and article by Scott Toole with all the reasons why the best female coach deserves to sit on the bench of a men's team.
The article:
"John Wooden, Bob Knight. Dean Smith. Adolph Rupp. Mike Krzyzewski.
Pat Summit.
That's right, Pat Summitt. The University of Tennesee women's basketball legend deserves to have her name mentioned with the all-time coaching greats from the men's game.
Why? Because she would be just as good coaching men as any of the other names I listed.
It has nothing to do with the 1,000 wins she's rolled up against the best talent in the women's game. Forty percent of those wins have come against ranked teams.
Think about the number. You'd have to coach for 33 years and win 30 games a year and you'd still be 10 wins short of Summitt.
Not because of the eight NCAA championships or being named NCAA Coach of the Year seven times. Wooden is the all-time leader with 10 championships.
Nope, none of that.
Summitt can flat-out coach, she knows when to discipline players and when they need a shoulder. Her teams sell out arenas, every top recruit in the country wants to play for her.
She has all the ingredients.
Does that mean you'll ever see her on the bench coaching a men's team? No.
Could she do it? Unquestionably yes. Just ask the legends".
Basketball Coach Ενότητες Άρθρων