Messina on the... meaning of meaningless games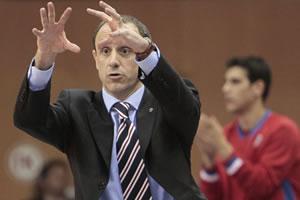 Ettore Messina, the coach of CSKA Moscow, writes in his personal blog about the... meaning of meaningless games, which is a common thing this part of the season. How he is dealing with one of the biggest coaching problems, which he admits that stays without solution.
The blog of the Italian coach is published in the russian newspaper "Sport". In order to read it click here.
"The result of the Cup was very disappointing. We recovered Smodis and prepared well for the semifinal. We were going into the semifinal feeling positive. We knew that Kazan was a tough opponent, because they always play a big line-up, they are very well organized defensively and they rebound very consistently. Anyway, we thought we were in a good situation to win that game.
As you know, after one minute and a half Smodis sprained his ankle again. He was out for the rest of the game and for the game after that. I thought a lot about what happened. All of us were not able to bounce back from losing Matjaz, especially on offense, where his ability to post inside and pass, as well as shoot from the perimeter gives us many opportunities to score and more importantly gives us the balance by connecting the big men with the guards.
Should this injury have happened before the game, we could have adjusted mentally. The fact that it happened during the game made us unable to react mentally, technically and tactically. From that moment on, playing that game was like climbing a mountain. We were always close, but we never found a way to play a balanced game, both on offense and defense. They deserved the win. UNICS won the final with a big margin, playing another excellent game.
For us, the most difficult thing about that loss was another game ahead of us in 24 hours. It was a meaningless game played between two frustrated teams. Both teams' performance was affected by the fear of getting injured. We were unhappy, because without Matjaz we failed to react properly. We just let the disappointment and the frustration overwhelm us and dramatically affect the level of our game. We went into the next game with Triumph feeling very nervous. We had a bad first half, while Triumph found a way to leave the disappointment behind and just play basketball. In the second half, we came back being more aggressive. Sasha Kaun gave us some good minutes helping us to play bigger line-up together with Erazem. We started scoring from outside, we got some confidence and, finally, we won the game.
One title was gone. Most people think that Cup is the easiest title to get. It's not true. It's the single-game-elimination tournament. In one game everything can happen.
We had a few days to prepare for Siena. We knew that it would be a pivotal game for our future. We knew that we were going to play against a very fast and aggressive team that had beaten many good teams this year, so we were expecting a tough game. The two days of practice before the game were also difficult, as we were nervous and insecure recovering from the loss. At the same time, we had to change many things that hadn't worked in Siena. Our players had to make these adjustments in a very difficult psychological moment: they needed to follow new directions with confidence and mutual trust
We came up with the game that Andrei Vatutin called "one of the best five games CSKA had over the last four years". Not only because we had a great game, but also because we played against a very strong opponent. Of course, they were tired from playing the Italy Cup. But it was the first Cup they won in their history. The excitement and the joy they experienced must have compensated for one extra back-to-back game they had (three versus our two games played in the Cup). In my opinion, neither of the team had an advantage.
Smodis asked to play against Siena with strong taping by our doctors. I told him that if he could practice normally the day before, I will play him. If not, I won't as he would be playing with a fear of another injury. Another player that is very important to us, Victor Khryapa, got 11 stitches over his eyebrow after he had collided with one of his teammates the day before. Even though Victor was hurt and couldn't see well, he wanted to play. He gave us about 10 minutes of intense play.
The team played as aggressively as it was possible. They were very aggressive in taking shots, in trying to create situations, defensively, instead of waiting and trying to play more secure. This is incredible, because they did this in the moment of maximum pressure. We knew that if we had lost, we could have risked qualifying for the playoffs.
The other interesting fact is that we never talked about point difference. We only talked about winning the game. I never said one word about the possibility of winning more than 18 points. The team played so hard, so consistently, with such confidence in passing and shooting, that at one point we've got a 20 points lead. At that moment I thought it could have been unfair (and I mean it) to push them to protect the point difference. It might have set higher expectations for our players that could have destroyed our good performance. So I told them: "Keep playing. Don't look at the score. Concentrate on your game. Keep playing aggressively and let's just win the game. That's it". They had a very good finish. As a result, we had the necessary point difference. It gave us a great opportunity to secure the first place by defeating Fenerbahce the next week.
With Fenerbahce, we were in a completely different situation. It was expected that we absolutely must win this one. This put an incredible pressure on us. But, again, we managed to play aggressively for the first ten minutes and got a big lead. Then we made a mistake. We thought, probably, that the game was finished. We relaxed. As a result, we had to roll up our sleeves and start from zero in the second half.
I think we had a good game, almost a playoff one, as we were building the game slowly and consistently, with the defensive pressure, with the ball movement, with the balance on offense. Usually, it doesn't pay you back immediately. You don't get 20 points advantage at once, even if you're better. You might need to stay in a close game for 20-25 minutes, which is very difficult to handle mentally. But we made it, and it was another important experience for our team.
Now, we have several games that couldn't affect our standings. We went to Samara, then to Zagreb to face Cibona, then we play Triumph on the road, then we play Ural-Great. Then, finally, the playoffs start. We have four games which results are not so important.
It's always a big problem for any good team. There are some players who are afraid of getting injured in those meaningless games. Even if you explain to them that playing without full physical and mental commitment increase the probability of an injury, players won't buy it. They tend to think that during practice they better control the situation, compared to any game. Pointing out that they have to keep their mind focused, because it's not easy to switch your mental focus on and off, won't help either. Players will be focused on the upcoming games in the Euroleague playoffs.
Honestly, I never know how to handle this kind of situation. I get mad, when I see my veterans who don't perform at the high level. At the same time, I don't think it's a good idea to leave them on the bench and lose rhythm of the game. So, these games are always a pain in the ass. Twenty years I coach, it's always the same story with every team, including the great ones. I don't know how I will behave this year. I will follow my instincts.
What drives me crazy is that the level of attention, the level of physical and mental commitment during these games is lower than during our regular practices. To me, it's very difficult to understand and accept it. So, these two weeks will be very difficult. I just hope that we don't waste too much mental energy fighting to maintain the right level of attention for these games, as we will need that energy in the playoffs.
This is my fourth year here, and every season we played poorly these meaningless games. Two years ago we lost in Rostov. Last year we almost lost to Vladivostok in the Russian League playoffs. We won the series playing awfully.
It's always the same story and the question is always "Should I leave the veterans on the court and let them face the situation and find the way to start playing? Or should I sit them and go with young players (who, by the way, played good basketball in Samara)?" You never know. You always get mad. You always get in the fight with the team. Unfortunately, this is just a waste of energy.
These games are not good for having fun either. Having fun is a concept that is different from person to person. For one, it's trying some fancy moves and passes on offense while not playing defense. For others, it's their play with absolute commitment regardless of his level and the level of his opponent. This way the fun comes from competition, commitment and the fatigue of playing as hard as one could.
In my way of living sports, fun is closely related to the concept of total commitment. For someone else fun is something relaxing, an amusement. I don't agree, but I respect. To have fun as a team, you have to combine the sense of fun of twelve players plus the coach. It's very difficult to reach the mutual understanding of the concept. The good thing about playing under pressure is that everybody understands what you have to do. It's easier. In meaningless games everybody has his own ideas, like entertaining himself.
Let me give you an example from other sport. There were tennis players like Ilie Năstase and tennis players like Bjorn Borg. Two completely different ways of putting yourself into the game. The same thing applies to basketball".
Basketball Coach Ενότητες Άρθρων