M. Moisiadis passed away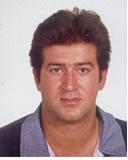 Greek basketball says "farewell" to one more of his favorite children. Makis Moisiadis died from a motorcycle accident in Markopoulo at the age of 37.
The Greek coach worked in women's basketball. Last year he sat on the bench of Panhiakos, managing to keep the team in the A1 League, while in the past he had worked in Filathlitikos, Zografou and Ilisiakos.
The Greek Basketball Coaches Association feels the need to give its condolences to his family and all his friends, saying with grief "good bye" to him.
Basketball Coach Ενότητες Άρθρων