T. Wright: A rookie for the title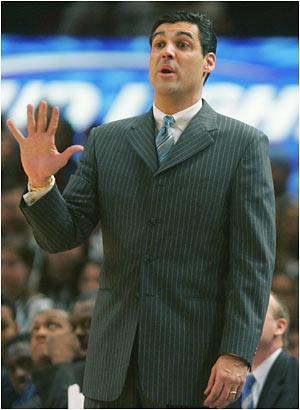 For the first time in his career the coach of Villanova Jay Wright will attend the final-four of the NCAA, which will take place in Detroit. The other three coaches will be Roy Williams of North Carolina, Jim Calhoun of Connecticut and Tom Izzo of Michigan State who have participated in the final-four and got titles in the past. "If you put the photos of the four of us and ask them who doesn't fit, everybody will point me" said Wright with a big smile.
The most difficult game for Villanova was the game against Pittsburg (78-76) in the Conference Final.
What did they other three coaches say about Wright?
Roy Williams noted that "by the way his team played against UCLA, Pittsburg and Duke, proved that Villanova is now playing better than anybody else".
Tom Izzo added that "the Pittsburg-Villanova game was one of the best games of the season. I think that Jay will have many more final-fours in his career".
Calhoun has never lost in a Final-Four (4-0), Izzo has experienced it five times in the last eleven years with the Spartans, while Williams will coach his team for the 7th time in the final-four.
And Jay Wright is saying that "you measure their successes and you try to reach their level. You seek the elements of their work that have made them special. There are three giants that I have to face. There have passed from the rookie point of view themselves they passed the exams and managed to get where they are standing now".