"Tarheels" and Williams made history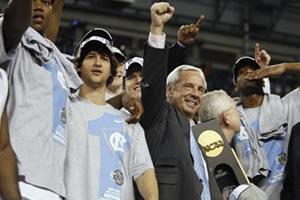 North Carolina cruised to the title in the final-for of the NCAA (beating Michigan State by 89-72) and won its 5th championship, helping coach Roy Williams enter the pantheon.
Williams,  who succeeded Dean Smith, was the 4th active coach of college hoops history (and the 13th in total) to win more than once the title. He has participated seven times to the final-four. Jim Calhoun (Connecticut), Billy Donovan (Florida) and Mike Krzyzewski (Duke) are the other three multi-winners.
"It was the proper ending for those kids" said Roy Williams who gave credit to them taking one step away from the spotlight.
"Roy Williams isn't that good. But, man, old-Roy have some great players in his team. That is what it takes to win the title" said the coach of the "Tarheels", who spoke especially for Tyler Hansbroough, the senior forward of the team. "I wanted the title desperately for him" he added.
Tom Izzo, the coach of the "Spartans" talked about the superiority of North Carolina saying that "when you play the Tarheels there are not much you can do. Lawson does it all. He is the one that stir things around".
And he added that "we didn't do what we have been doing all year. When you say something like that you take a part from your opponent and I don't want to do something like that. It was a combination of their performance and ours. We have to take some of the blame for sure".
To conclude by saying that "the best team won, it is an easy think to say".
Basketball Coach Ενότητες Άρθρων