G. Oriema is the champion and the coach of the year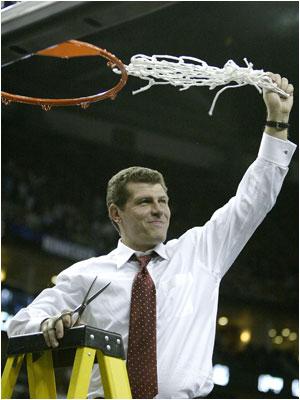 Connecticut won the title in women's college basketball, by beating Louisville in the final by 76-54. The coach of the champion team, Gino Oriema, was named coach of the year, the same time he passed in the first place of the coaches with the most titles. The experienced coach who have won the title in 1995, 1997, 2000, 2002 and 2008 celebrated his 6th championship, leaving Pat Summit behind him.
After the win Oriema made clear that "for us the first goal is to be in the final-four and we thing the title us a blessing. You have to adjust yourself in order to convince and make sacrifices, because you are working in a top program of the country. A few years ago I thought that Connecticut and Notre Dame will be fighting for the championship for the next ten years. Then it was Connecticut and the Rutgers.  Now is Connecticut and Louisville.
I think myself as a lucky guy to work in this college and do a job that is filling me. I love Connecticut. The championship belongs to my players, who knew their tough task, but managed to achieve their goals.
It is true that our star players will not be with us next years, because they finished school, but believe me we are doing a good job and after the championship will be working for the future of the team".
Basketball Coach Ενότητες Άρθρων