E. Messina on Olympiakos and Panathinaikos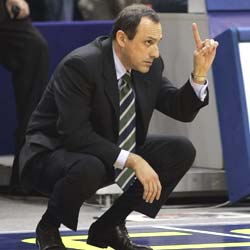 CSKA coach, Ettore Messina, through his personal blog wrote about the upcoming final-four of the Euroleague, analyzing from his own point of view the meaning of the Greek semifinal between Olympiakos and Panathinaios. "History has shown that these battles tend to weaken the winner in the final game" noted the experienced Italian coach.


In details:


"Two more spots in this Final Four are taken by the Greek teams: Panathinaikos from Athens and Olympiacos from Piraeus. Both had very impressive wins 3-1. It will be interesting for the fans to see their match-up in the semifinal.
Panathinaikos was astonishing in what they did. The truth is that over 160 minutes in 4 games, Siena was up for only 10 minutes. Everything fell down for Siena in game three. They were overwhelmed by the pressure. They seemed to overestimate their win on the road. They thought that they were closer to the Final Four than they really were.
When you play a team like Panathinaikos and you obtained the home court advantage, you have to play. Panathinaikos will never give up. I appreciate the word that Obradovic gave after game three. He said: "We played great, but, honestly, Siena missed many good shots". That's probably what happened. They were so tense, so uptight that they were shooting awfully. Panathinaikos totally deserved to win that game.
The fourth game was a typical playoff game. But something was going on in the mind of Siena players. You feel like you had a great chance and - bang! - you wasted it. Siena never built a lead. It reminds me what we said in the previous entry. You're very good, if you improve your level in the second of back-to-back games. And this is what Panathinaikos did.
They weren't satisfied with the recovered home court advantage. In Game 4 they played even tougher. I watched the game. Even when they were down, they were somehow playing their game forcing Siena out of its system, making them shoot more three-point shots and making them rush and make more turnovers then usual. In this series Panathinaikos played the game they wanted to play for three and a half games. They totally deserved their ticket to the Final Four. The same applies to Olympiacos.
Historically, a team winning the derby in the semifinal had a hard time in the final. It happened to my teams three times: twice to Kinder and one time to Benetton. In 1999, 2002, and 2003, we won the derby, but lost the title. Chances are high that the team that wins the derby would get exhausted. Especially, since Panathinaikos and Olympiacos will face each other in a month during which all Greece will talk about this semifinal. It will be like the game of the century. The pressure for both teams will be even higher (if that's possible) compared to a usual Final Four".