Mike Brown talks about how you become "coach of the year"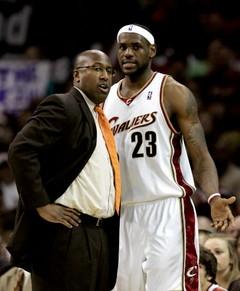 Cleveland is on fire and has started the play-off in the best possible way. The "coach of the year", Mike Brown, always in his interviews talks about his players and the important role the good relationship they have with the coaching staff is playing for the Cavaliers' crazy run. The Cavs are up with 2-0 and LeBron James and CO is the big favorite to advance to the Final.
"These players are made for the championship" he said in a recent interview to add that "I am very luck to be standing next to these athletes. If I didn't want to coach, I couldn't coach them. Our relationship is more the one between partners, than a typical relationship between a coach and his players. Also I am fair and act equally to any other member of the coaching staff.
The certain thing is that the players are the one that make things happen and bring success to a team. They go out to the floor and win for you. My name might be written to every win, but I ought to thank them, as I have to do with the other coaches. I feel that we have the bet coaching staff in the NBA. They work really hard and make my job a lot easier. They have helped me to become a better coach and a better person.
I repeat that the players made me "coach of the year". I cannot wear a uniform and go in the game. I cannot do anything on the floor. They do it all for me. You cannot be named "coach of the year" all alone. You have to have the right people on your side. There is no other way.