Isiah Thomas talked about... basketball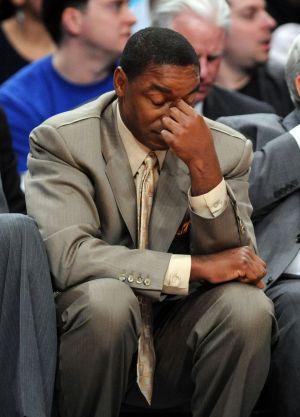 On the 14th of April Isiah Thomas return to the benches, signing a contract with Florida University. Thomas retired as a player in 1994, but has not made such an impact as a coach. He failed as a coach in the Toronto Raptors and was fired, while the same happened with the Pacers and the Knicks.
He has been convicted for sexual harassment, while on October he was hospitalized for pill overdose. Read what he have said after all these in "Louisiana News".
QUESTION: One of the reasons you took this job was your long-time friendship with FIU athletic director Pete Garcia. How did you guys get to know each other?
ANSWER: I've always been a tremendous fan of football. Back when I played for the Pistons (from 1981-94), we formed a great relationship with the Oakland Raiders. They were the bad boys of football, and we were the bad boys of basketball. I knew Pete back when he was doing stuff with the (San Francisco) 49ers (in the 1980s), and we reconnected at the BCS championship in Miami earlier this year. A week or so later I got a call from him, and he asked if I would ever entertain the idea of coming to coach in college. I went and visited the campus and was excited about what I saw.
Q: You signed a five-year deal worth $1.29 million to coach at FIU. Why did you go to the school?
A: I love basketball, love being in the gym and love helping kids. Coaching in college basketball allows me to fulfill all of those passions. This is an emerging and developing university, and the sports program is starting to shape up. It's a good place to be.
Q: How have you handled all the drama surrounding your time with the Knicks?
A: I've been on the public stage since I was 15, so I've learned how to take the good with the bad. For the most part, (my basketball career) has been good. I've had some great successes in basketball, but that was a failure. I gave everything I possibly had to make them a winner. I tried as hard as I possibly could to get the Knicks where we could win a championship, but like many others I failed there.
Q: What will be your biggest challenge in adjusting from the NBA to college?
A: I'm blessed with a wonderful opportunity to help make a difference and shape the lives of young people during an important stage of development. I want to teach my players the correct way to play and help better themselves as a man and athlete. This is a wonderful gift I've been given.
Q: Do you have a response to anyone expecting you to leave FIU for a job in the NBA before your current contract expires?
A: At the end of the day, you can't really answer that question. All you can do is look back and say 'I've been here for 10 years or 20 years.' Can you say you would stay if another newspaper came and offered you a job in a few years? I came here free of charge looking to do good and help. I don't have anything to say to anyone who questions that or is critical about it. The one good thing I can say is that I'm not driven by money. I love basketball. I love where I'm at. I love being in the gym. There's no amount of money you can seduce me with. I'm driven by the love of the game.
Q: What about your long-term goals for the program?
A: I want to establish a program that is extremely effective in the community and on the court and that changes lives. If we can do that, the winning will come.
Basketball Coach Ενότητες Άρθρων