Elias Zouros goes to the... NBA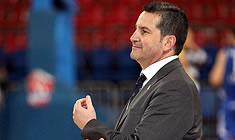 Elias Zouros will have the opportunity to experience the "planet NBA", as he was invited by the Houston Rockets. The coach of Panellinio will travel to the States on July and he said to sepk.gr that "this is an honor for any coach".
The experienced coach will "fly" to Houston on the 3rd of Jule, when the preseason will start. He will watch closely the practices and the games of the Rick Adelman's team. The Rockets knows Zouros really well as they have the NBA rights of Brad Newly.
On the 10th of Jule the Texans will go to Las Vegas to participate until the 17th of July to the Summer League.
"It is an honor for any coach to be part of a NBA team" said Elias Zouros to sepk.gr. He will have the opportunity to change ideas and opinions with the coaching staff of the Rockets and watch closely the way the NBA teams work.