Pascual is coming with the title and a record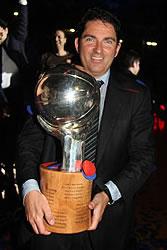 Xavi Pascual will lecture in the International Clinic "Salonica 2009" (3-5 of July) as the champion of ACB League. The coach of Barcelona, who was invited by the GBCA along with Lawrence Frank, Mateo Boniciolli and Soulis Markopoulos, won the title in the Spanish League against Tau (3-1) and made history!
Pascual became the youngest coach in the history of Spanish basketball to win the championship. He was 36 years, 9 months and 9 days old. He broke the record of Louis Kasimiro (37) of Manresa (1998) and Sergio Scariolo (39) of Real Madrid (2000).
"We are happy to win the title against a very good team as Tau, which didn't give up. Today we were concentrated in the crucial moments of the game. We had a problem with the injury of Burton, mainly in the match-up against Michael. Basile did a good job against him and he was the man of the match.
It was certain that a lot of people would doubt me when I was named head coach, but I think that we played good basketball the entire season" said the coach of Barcelona who dedicated this championship in the memory of his former associate Juan Ponce. "He had told be about the day we would won the title in "Palau Blaugrana" and now we came to live this moment" he concluded.
Basketball Coach Ενότητες Άρθρων