Rambis the new coach of the Timberwolves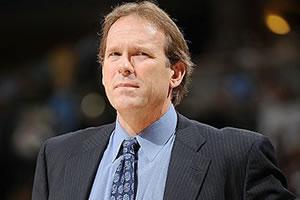 Kurt Rambis (Kiriakos Rambidis), who has Greek origins and a "black-and-yellow" past (he played for AEK) is the new coach of the Minnesota Timberwolves. The former assistant coach of Phil Jackson was introduced at his first official head-coaching job in the NBA.
He won titles as a player with the Lakers and stayed 9 years as an assistant coach. He also was named interim coach, replacing Phil Jackson when we faced some health problems.
Last Summer Kurt Rambis, was negotiating with the Kings, but decided to turn down their offer. He said "yes" to the Wolves and now is ready to replace Kevin McHale, his opponent in the 80's.
Rambis was the interim coach of the Lakers on 1999 (the year of the lock-out) and stayed in the staff next to Phil Jackson.  
Basketball Coach Ενότητες Άρθρων