A1 is trusting Greek coaches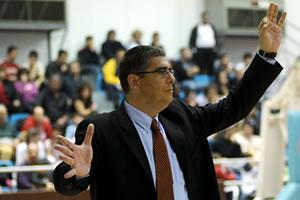 The improvement and the rise of Greek coaches can be proved in my ways: from their constant successes, from their participation in many strong leagues of Europe even in national teams and from their consecration in the difficult A1 League. We see that only three teams have trusted a foreign coach, while only four of them made a change in their bench.
Panathinaikos, Aris and Panionios are the only clubs with a non Greek coach. Zeljco Obradovic has been in the "Greens" for over a decade, Andrea Mazzon carries on his work for a 4th year in Aris and Nenand Markovic who has been tested in Greece as a player an a coach.
The rest of the teams showcased their trust in Greek coaches who have earned their consecration.
Another interesting fact has to do with the trust the teams are showing to their coaches. Only four teams have made a change: Marousisi (Bartzokas instead of Markopoulos), Panonios (Marcovic instead of Trifounovic), PAOK (Markopoulos instead of Kalafatakis) and Peristeri (Skourtopoulos instead of Karagiannis).
In details:
Panathinaikos: Zeljco Obradovic
Olympiakos: Panagiotis Giannakis
Maroussi: Giorgos Bartzokas
Aris: Andrea Mazzon
Panellinios: Elias Zouros
Panionios: Nenad Markovic
PAOK: Soulis Markopoulos
Kolossos: Giannis Sfairopoulos
AEK: Kostas Flevarakis
Kavala: Kostas Pilafidis
Olympia Larissas: -
Trikala: Vaggelis Aggelou
Peristeri: Thanasis Skourtopoulos
Ilisiakos: Stergios Koufos
Basketball Coach Ενότητες Άρθρων