M. Brown: "An interesting game"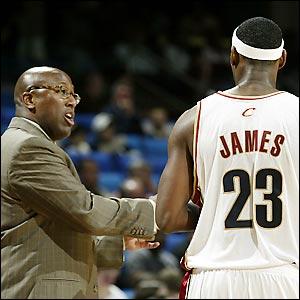 A few days before the game against Olympiakos the coach of the Cleveland Cavaliers, Mike Brown, got himself a "headache" called Delonte West. The experience coach gave an interview in the "Herald", in which he talked about the problems the team is facing, while he also talked about the upcoming game with the "European" Olympiakos.
"For me it's a big problem not to know whether we will have Delonte or not. The problem it is quite big, because the other players have below average ball-handling skills. In the summer league game he showed us that we can rely on him. He ran the team pretty well and he was a point-guard that knows what setting the tempo is all about.
If we forget the point-guard position we have a full roster. We will be full in the "1" spot if the West issue is solved. We are a team that likes to run and we always find points in the open court. We are still working on some new things in our game, elements that we lacked last year.
We will play a friendly game against Olympiakos, who is a very strong European team. For use it is a test to see how we will react in unusual situations. I know that in European they pay more attention to defense, so it will be a nice challenge to see how we will play against them. They have some players with NBA experience such as Childress, Kleiza and Wafer so it will be a game that we anticipate".
Basketball Coach Ενότητες Άρθρων