A high-quality clinic in Irakleion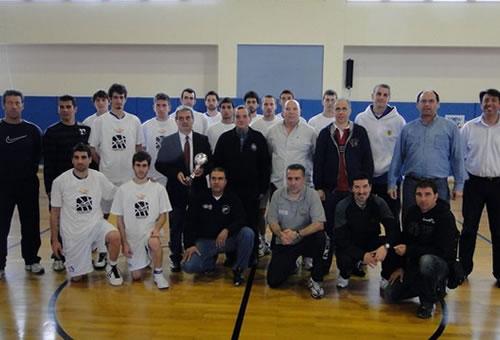 An impressive local clinic was held by the Greek Basketball Coaches Association during the All-Star Game in Irakleion. The stands were full, the demonstration team was excellent and the level of the lectures was extremely high and all those elements led to a successful clinic.
The Clinic started with Dimitris Priftis talking about "offensive and defensive plays". The assistant coach of Aris (and coach of the U-22 team in the All-Star Game) analyzed in depth some hand-off offensive options and certain close-out and rotation situations on defense.
Next Nikos Linardos talked about "coaching centers: technique and tactics". The assistant coach of Maroussi (and coach of the U-20 team in the All-Star Game) started his lecture with one player, and then talked about two finishing with the role of the center in five-on-five basketball.
The demonstration team was quite impressive and played an important role to the success of the clinic, which was attended by 70 coaches from entire Crete. Also the president of the GBCA, Lazaros Papadopoulos, attended the clinic.
After the end of the clinic the GBCA honored the two lecturers and the president of the Sports Committee, Giannis Drositis.
The GBCA also attended -with Michalis Kanakis as a representative- the visit to the "Zoodohos Pigi" foundation.