Oktay Mahmuti at the International Clinic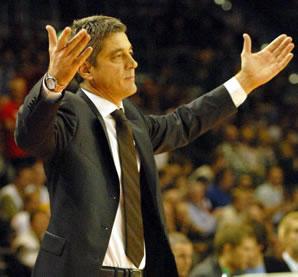 Following Aito Reneses another great European coach we attend the International Basketball Clinic, which is held by the Greek Basketball Coaches Association during the Olympic Qualification Tournament. We are referring to Oktay Mahmuti of Benetton Treviso, who will teach in Athens on the 17
th
, the 18
th
and the 19
th
of July.
In spite of his young age (40 years old) he is considered as one of the top coaches in Europe and an expert on defensive tactics. The latter will be on of the topics of his lectures.
The coach from Turkey (born on 6
th
of May 1968) began his coaching career at a very young age. His first experience was the youth teams of
Eczacibasi Istanbul, while at the age of 24 become a member of Efes Pilsen's coaching staff.
He had been working as an assistant coach for eight year, before his naming as the head coach in 2000. He maintained his position until the summer of 2007. This year he began his international career with Treviso and local Benetton, being his first "stop". As a matter of fact he renewed his contract a few days before.
With Efes Pilsen he won the Turkish championship four times (2002, 2003, 2004, 2005), the Turkish Cup four times (2001, 2002, 2006, 2007) and made it to the Suproleague's final four in 2001.