Mike Dunlap will lecture in the International Clinic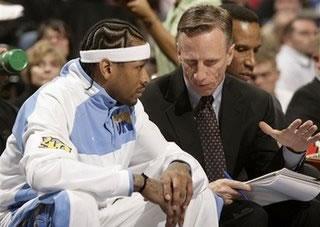 Mike Dunlap will be the forth lecturer of the International Basketball Clinic, which will be held by the Greek Basketball Coaches Association (17-19 of July) in Athens.The 50-years-old coach, who has experience from every level of the American basketball (NBA, college basketball and national teams) and was -until now- working as an assistant coach of the Denver Nuggets, will be surrounded by Aito Reneses, Oktay Mahmuti and Erik Musselman, the other three lecturers.
Mike Dunlap will teach about the "1-1-3" zone defense, the defensive transition and the offense against zone. He was born in Alaska in 1958 and starting from the next season will standing next to legendary Luke Olson in the coaching staff of Arizona University, leaving the Denver Nuggets, where he work side by side with George Carl for two years.Before that he had an incredible nine-year run as the Head Coach at Metro State College of Denver. Over that span, Dunlap compiled a 248-50 (.832) record and won Division II national titles in 2000 and 2002. The Roadrunners also advanced to the Final Four in 1999 - where they lost in the championship game - and in 2004. He was named National Association of Basketball Coaches (NABC) Coach of the Year twice (2000 and 2002) and leaves as Metro State's all-time winningest coach.
In May 2006, he was named a court coach for the Under-18 National Team trials for USA Basketball. He also was a court coach at the 2005 USA Men's Under-22 National Team trials.Prior to his arrival at Metro State, Dunlap served three seasons as the head coach of the Adelaide 36ers of the National Basketball League in Australia. The 36ers posted a 59-33 record during his tenure and advanced to the NBL Final Four in 1995 and 1996.Before arriving in Australia, Dunlap was the head coach at California Lutheran University in Thousand Oaks, Calif., compiling an 80-54 record over five seasons. He led CLU to three conference championships and was named Kodak District Coach of the Year in 1994.
Dunlap has also worked as an assistant coach at the University of Southern California under George Raveling, the University of Iowa and Loyola Marymount University - his alma mater.He admits that his philosophy was influenced by Ed Goorjian (the head coach of the Australian national team), John Chaney and Pete Newell.
Dunlap and his wife Mollie have three children: Holt, Spencer and Ellie.