Sito Alonso's lectures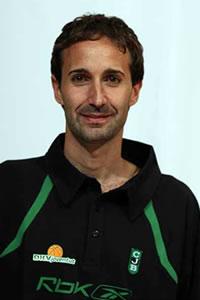 Sito Alonso will teach two special subject in the International Basketball Clinic for Young Players, which will be held by the Greek Basketball Coaches Association in Veroia (13-14 of June).
Dribble: the Basis of Offense" and "Avoiding resting on the court" will be the topics of his lectures. In his first lecture he will make a different approach to the subject "Dribble", underlining that the improvement of dribbling, leads to an overall improvement of the player. "The hand, positions", "the importance of the feet", "uncertainty", "lateral dribbling", "passing after dribbling" will be the parts of the teaching, before entering in drills and the questions from the audience.
The second lecture is related to the player's resting on the court and how to avoid it. It includes parts as "2X1 (offense-defense), "if he stops, I stop", "resting in my zone", "he rests, I rest", "changing positions", drills and questions.
Until now Sito Alonso was the assistant of Aito Reneses, but he will come to Greece with and advanced role. Since the last couple of days the 32-years-old is the new head coach of Badalona, which wants to maintain its philosophy of supporting the next generation.
As it is widely understood the Spaniard coach is the most suited to teach in the first of the two International Basketball Clinics for Young Players that are held by the GBCA this summer (the other one will be in Patras on the 20th and the 21th of June).
Besides Sito Alonso, Giannis Sfairopoulos will lecture in the clinic. His topics are individual offense facing and backing the basket.
Basketball Coach Ενότητες Άρθρων