The successful conclusion of the "Athens 2008" clinic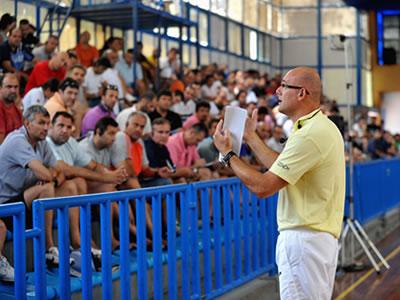 The three-day and very successful International Clinic "Athens 2008", held by the GBCA in Kipseli (17-19 of July) came to an end this Saturday. The curtain dropped with the honors to the lecturers and that was the conclusion of the clinics (local, for Young Ages, the great International) of the Association, which renews its rendezvous with the Greek coaches for next season!

Neven Spahija, Oktay Mahmuti, Eric Musselman and Mike Dunlap gained the applause of the crowd, which filled the gym of Panellinios. It has to be noted that the lecturers thanked the GBCA for the invitation and mostly the audience for its dynamic presence which consists a record (roughly 500 registrations).
Neven Spahija talked about the "offensive transition", the "weak side action" and the "triple switch" with his own characteristic way. He used a lot of examples from the teams he has worked in the past and mostly from the Spanish champion Tau, allowing the audience to catch immediately the point. Oktay Mahmuti gave three concise lectures about "building team defense", "offense from the low post" and "offense against switching defense", which he analyzed with a methodical way. Mike Dunlap gained the show team and the audience with his passion, his energy and the emphasis he gave to details (he talked about "defensive transition", "zone 1-1-3" and "defense against zone"), as Eric Musselman shared with the Greek coaches some original ideas and examples from his tenure in the NBA regarding the "pick and roll", the "trapping defense" and the "special situations".
The four lecturers were honored on behalf of the GBCA by Thodoros Rodopoulos (A' vice president), Giorgos Kalafatakis (B' vice president), Thodoros Bolatoglou (General Secretary) and the "coach of the year" Soulis Markopoulos.
Lazaros Papadopoulos, the president of the Panhellenic Association of Professional Basketball Players showed in the last day of the Clinic. The day before, he had a meeting in the offices of the GBCA, with an assembly of the Association, to talk about the problems of Greek basketball.
Basketball Coach Ενότητες Άρθρων