Flight to the States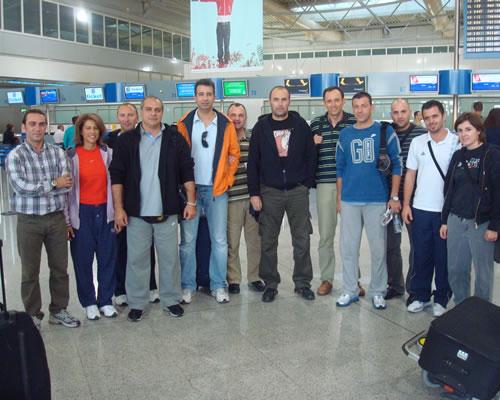 USA was the destination of the members of the GBCA who took part in the scholarship program, which started Thursday morning.

The 11-people party, which was enforced by two Cypriot coaches, with the vice-president of the GBCA -Giorgos Kalafatakis- in charge, will travel in the East Coast, where they will have the opportunity to follow coaching programs of notorious college teams and NBA teams.
In details the coaches will visit Villanova, Saint Joseph, Temple, Drexel, Penn and LaSalle, they will live up close the preseason efforts of the Philadelphia 76ers, the New Jersey Nets and the Washington Wizards.
The ten members of the GBCA that retrieved the scholarship are: Dospras Konstantinos, Georgiou Theodoros, Economidis Demetrios, Demopoulou Irene, Papandreou Athanasios, Grapsas Ioannis, Pinakoulakis Antonios, Albanis Theodoros, Kafantari Eleni, Karamichalis Dimitrios and the fellow coaches from Cyprus Mastoris Athanasios and Michalis Manchenidis. They will be accompanied by Giorgos Kalafatakis and the A' Vice President of the GBCA, Theodore Rodopoulos.
Kalafatakis: "It has been established"
Before the take off of the mission Giorgos Kalafatakis said: "The Association tries constantly to help its members, providing a full educative program, which includes local and international clinics and trips to the States, like this one. It is something that happens in a regular basis and has been established.
It is a chance for the Greece coaches to follow different kind of basketball programs, which enlarge the horizons and give plenty of knowledge and experience.
The GBCA and its members do their best –as a team of individually- to bring the coaching occupation in the place it belongs. But this is not enough, because the State and the teams have to do the same".
To see the enlarged picture click here.
Basketball Coach Ενότητες Άρθρων