Messina on the problems of Italian basketball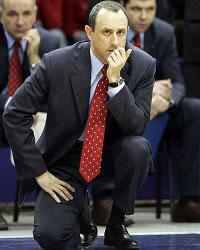 Ettore Messina wrote on his personal blog for the problems of italian basketball, underlining the reasons that lead to the crisis. He also suggests the suited solution fo the "Lega" and the "scuadra azzura".
To read the whole blog of the Italian coach of CSKA Moschow click
here
.
In Details:

"First, Italian national team failed to qualify directly to Eurobasket-2009. Andrea Bargnani and Marco Belinelli refused to join the National Team and preferred to work in their clubs during the summer. Danilo Gallinari got injured. Also it wasn't clear whether our veteran players Basile, Marconato and Galanda declined the invitation or they never got it. Plus players association warned to go on strike if the federation doesn't change the limits for foreign players in Italian league. They managed to reach the consensus eventually, but it took a lot of energy and put even greater pressure on the national team. We didn't perform well in a tough group with Serbia and Bulgaria, and we were lucky to clinch the third place to go to a qualification round next year and thus preserve a chance to take part in Eurobasket. This was perceived as a disaster by the media and fans.
Second, two clubs - Napoli (who won the Italian cup two years ago and played in the Euroleague in 2006/07) and Capo d'Orlando (who reached the playoffs last year and had a well-known for Russian fans Gianmarco Pozzecco playing for them) - were excluded from the Lega A because they didn't fulfill their economical obligations. I wonder why this happened not in the middle or the beginning of the preseason when there would be plenty of time to change something, but now, in the late September, a few day before the season begins. Why this situation wasn't monitored by the federation to prevent two coaches and many players being out of job at the beginning of the season when it's too late to change something?
Third, following the resignation of 11 members of the board of Italian basketball federation the president of the federation had to resign himself. Now, the president of the Italian Olympic committee will take over the federation as an interim. This situation further aggravated the economical and political crisis in Italian basketball. At this moment, we don't have a government in our basketball. With the exception of very few clubs like Siena, Roma, Milano, we don't have the economic strength and a system in place to develop young players.
What makes the matter worse is that everybody thinks that the root of the problem is hundreds of foreigners allowed to play in Italian league without any control by the federation.
In fact, the situation is much more complicated. All coaches who worked with the national team for the last 15 years have been constantly warning that we have a huge problem with development of young Italian players and that it will soon lead to much bigger problems in our basketball. For fifteen years we were blind enough to hide the problems behind good results of the national team. We underestimated the poor results of our young national teams, while in the 80's and 90's they were succeeding at a very high level. We also underestimated the fact that the fans lost identification with the clubs due to continuous changes in their rosters.
To sum it up, it's not just a problem of foreign vs. local players. It's more a problem of continuity. If you change roster every year due to financial reasons and lack of Italian players (what most of the teams did to overcome the economical or technical problems they were facing at the moment), you can simply lose your fans. For example, CSKA fans love not only Victor Khryapa and Alexey Savrasenko, but also JR, Trajan and Matjaz because they've been playing for CSKA for a long time, and they play with their whole heart. It would be completely different, if we change the roster every year without having any stability in our program. This is exactly what's happening to many Italian clubs.
The first thing less economically fortunate Italian clubs cut out of the budget is the program of developing young players. Very few clubs managed to continue to invest money in the teachers and the recruiting of young players. Usually, when club is short of money, they cut out this type of expenses first. This is why I've been suggesting to Russian basketball federation for more than 3 years (this is my fourth season with CSKA) to hire the permanent coaching staff that could go around the country teaching the players, selecting the players, helping the coaches to improve and to have a unified program of developing Top-25 players through all (U16, U18 and U20) stages. A program we don't have here in Russia. A program that Spain and Greece implemented 15 years ago.
Italy used to have it before and had great results not only with young national teams, but in terms of finding new talents. I can give a great example. After a disappointing for Italian national team season of 1992-93, when I was first assistant and then head coach, I decided to substitute many veterans by Under-22 players who had won the silver medal in Edmonton in U20 World Championship. This generation included Fucka, Myers, Bonora, Moretti. Later we had another group of players born in 1975 (Marconato, Galanda, etc) that came out from program that was taking these players every winter for 20 days to play against US colleges. As a result this generation won Eurobasket silver medal in 1997, Eurobasket gold medal in 1999, Eurobasket bronze medal in 2003 and Olympics silver medal in 2004. In the 90's the Italian federation had a full-time coaching staff and the coach of the national team was also responsible for all young teams. Now, this generation retired and this system non-existent, we have nothing.
Bargnani and Belinelli are rare exceptions that came out of nowhere. The first one from a small club in Rome, really dedicated to developing young players, the second one was in the youth section of Virtus Bologna, and when Virtus went bankrupt, he joined Fortitudo.
As for the solution, I honestly believe that despite my natural incline towards mutual agreement and consensus (which is good for good times), here, in the middle of a deep crisis, we need somebody to step up, take responsibility and make decisions. Unfortunately, the political system in Italian sports says that all the clubs, from the smallest one to the biggest one, have the same weight of their vote while electing the new president. And it's very difficult to collect votes, as you need to go door by door. As a result, most of the times, you have people who are extremely passionate about the basketball, but who are not professionals to take over the organization. They have hard time in understanding and defining the criteria for making important decisions.
At the moment, the best solution would be the Olympic committee appointing a strong person to lead the federation, instead of having new elections organized. We need to have new rules implemented before we have a new government. Otherwise we will end up facing the same problems with only change in faces. It will be extremely difficult and it will take years and years before we could go back to the level the Italian basketball was once at.
In sports democracy is applicable if there is a strong sense of responsibility and self-discipline. If not, it becomes anarchy. Probably, this can be applied to life also, but I'm not an expert in life to say something like this.
We had a tremendous crisis in terms of leadership, both in the league and federation. The league leaders put a lot of energy in fighting against each other and neglected more important duties. To illustrate this point, five or six presidents of the league changed in the last ten years. Federation is an organization where there are a lot of amateurs who are passionate about basketball, many of them coming from small clubs where they managed to create miniature replicas of great clubs. But they are not professionals, they are people who have another job to make their living and sometimes they are not so close to problems they have to solve. Common misunderstandings arise when one tries to link amateur sport and professional sport. Each of them has their own needs, aspirations and problems to solve and it's really important to understand the difference.
Another issue I want to address in this entry is the rivalry between ULEB and Euroleague that generated so much rumors and comments lately. I know both Eduardo Portella and Jordi Bertomeu personally. I respect and really like both of them. But there is a big misunderstanding. The model of Football Champions league (the one that ULEB suggested to apply to Euroleague) cannot be applied in basketball for one simple reason. Our clubs don't live on profits, like Manchester United, or Milan, or Inter. Top clubs live on the money sponsors or tycoons give them to survive. Let me give you an example: neither CSKA nor Panathinaikos are self-funded clubs. Panathinaikos is supported by Giannakopoulos family. Real Madrid and Barcelona are subsidized by the respective football clubs. Therefore it's important to provide these individuals with the security for a four-five years' span, so that they can feel safe to invest their money, run long-term programs and invite great players.
If one of these clubs doesn't have the possibility to compete in Euroleague for one season, it might lead to cutting the budget, suspending the long-term programs and, eventually, great players leaving the club. Unlike FC Milan that can not play for one season in Champions League and still afford Ronaldihno (selling out the season tickets and earning a lot of money on jersey replicas). In basketball we don't have huge TV contracts, we don't have merchandising, we don't have multinational companies as sponsors.
It doesn't sound feasible when I hear that the new league will distribute a lot of money to the clubs. Where will they get this money from? If ULEB and Euroleague start fighting, it will be similar to two Middle Age poor men fighting over the bone the rich man threw away. There will be no winner in this fight. This fight is for nothing. The same way ULEB vs. FIBA fight was for nothing several years ago. We're fighting over very limited resources, instead of finding ways to increase those resources together, which is the saddest part to me. Of course, I'm lucky because I'm here, but I think about hundreds of coaches and players who are not so lucky to be in CSKA. They are the people who are exposed the most to the risk of another confrontation. Knowing personally both Portela and Bertomeu, I hope that they will be able to sit and talk calmly to try to reach a mutually beneficial agreement. If not, it's going to be hard times for European basketball.
I respect sports results, they are very important. But top clubs need this kind of security from Euroleague to sign great players and guarantee them long-term contracts. These clubs had great results in the past, they are the strongest contenders now, and they proved being solid clubs economically. Even if I was in a small club, I'd still think they deserve this kind of security as this is a necessary condition at this point for the European club basketball to develop further. If the Russian fans are worried about more spots for Russian teams, there will be additional spots for Russian clubs in the new project of Euroleague. So this shouldn't be a problem".