Analyzing the "keys" of the quarter-finals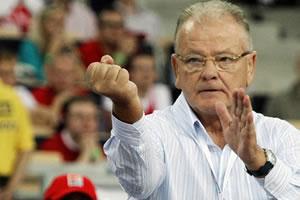 Serbia and Spain are the first teams that qualified for the semifinals of the Eurobasket. The "plavi" beat Russia and the "fourias rojas" won against the French in a pair of games that "finished" rather early. The four coaches are analyzing their teams and the key-facts of the matches.
Sergio Scariolo talked about the improvement of his players' physical condition, as many of them faced injury problems in the end of the pre-season.
"We are in a better shape and we can work in the way we want" said the Italian coach of the National Team of Spain to add that "we beat an excellent team. They have a lot of heart and pride and they didn't quit".
From his side Vincent Collet underlined that "the Spanish team dominated in the game from the beginning and they didn't allow us to come back. They showed signs of improvement from the past games and they "killed" us. We had problems in passing and we didn't find solutions. In the second half we cut the deficit by 11, but they were too good for us".
In the other quarter-final Serbia beat Russia easily (79-68) with Dusan Ivkovic saying that "we deserved to win today. We got our first goal, which was the qualification to the Mundobasket. The key to our victory was our bench. We played like a team today. We want to keep also the defense we played in the second quarter".
Lastly, David Blatt said that "there are games in which you have to make comments and find excuses. The present game is not one of them. They beat us in every single category. It was obvious that they were a better team. They did everything they want in the floor, when we didn't do anything to stop them. We could not take advantage of the things they gave us in the second quarter".