Nikos Marinos passed away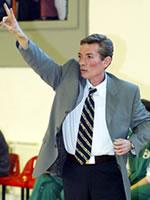 Greek Basketball says "farewell" to one of its favorite children. Nikos Marinos, 49, passed away on Friday, after a long fight against cancer.

Nikos Marinos played for several years in Dafni, before starting his coaching career.
He worked as an assistant coach in Ionikos Nikaias, in his beloved Dafni and he was named head coach of Megara.
His major successes came in women's basketball, where we won the Greek Championship with Panathinaikos and Panionios. The Championship was the first in any sport for the club of Nea Smirni.
He was an active member of the GBCA, attending with consistency the clinics and contributing to the magazine "Basketball Coach".
The Greek Basketball Coaches Association feels the need to express its condolences to his family and friends and wish him "goodbye".