"An unique day"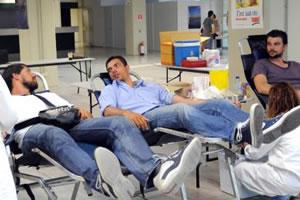 The volunteer blood donation, which was held by the Players' Union, the Women's Players Union and the GBCA, was concluder on Monday with great success and participation. "It is an important day" said all the people that made this effort.
Papadopoulos: "An important and unique day"
The president of the Players' Union, Lazaros Papadopoulos, referring to the blood donation said that "today is an important and unique day. The Players' Union wants to show that is making social effort outside the four lines of the court. We hope that this will be a good example for the fans, especially the younger ones. It is very important, also, that the Women's Player Union, the GBCA and the Press supported us. We hope that what we did today will go on and that others will follow".

Tsartsaris: "Help the people"
Kostas Tsartsaris from his own point of view said that "the concept of the blood donation is simple: we want to give to our fellow citizens, especially those that are in need. To give some blood isn't so difficult. I hope that in the future something like that will be repeated with the same participation".
Vasilopoulos: "It is important to give blood"
Panagiotis Vasilopoulos said that "I am particularly happy for this kind of move made by the GBCA, because many people are in need. I believe that giving blood and helping is very important".
Papamakarios: "Support the ones with need"
Manolis Papamakarios said that "It is a very important decision to make a step forward and combine the General Assembly with the blood donation, which reveals our social composure. The Players' Union proves that and will carry on supporting those which need our help".
Bolatoglou: "A perfect collaboration with the players".
The General Secretary of the Greek Basketball Coaches Association, Thodoros Bolatoglou said that: "the decision for the blood donation was excellent. We saw a significant participation and that is very important. We have to mention that the collaboration between the Players' Union and the GBCA is perfect. Recently we sent our demands to the Ministry. Only through good cooperation the problems of Greek basketball could be solved".