Approaching game No3 of the Euroleague's play-off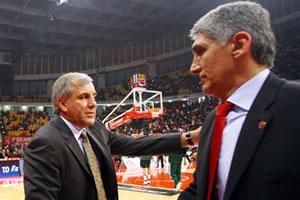 Eight coaches who participate in the Euroleague's play-off talk about the third game of the series and each one of them are analyzing a different aspect of the game. Pascual talks about rhythm, Joan Plaza about the home-court, Panagiotis Giannakis about the score, Ivanovic about consistency, Pianigianni about his opponent, Obradovic about defense and rebounding, Messina about turnovers, while Vujosevic thanked his players for the journey.
It is very interesting to see how these top European coaches are approaching these crucial games.  
Panagiotis Giannakis (Olympiakos):
"We travel to Spain thinking that the series starts from the beginning, which means 0-0. We know that Real Madrid will put much pressure on us from the very first second. They are a big club that knows how to play important games and how to prepare themselves after big wins or losses. We expect even more pressure from their fans, since we will compete in their home court, so we will need the highest level of concentration during the whole game. Controlling the tempo, rebounding and turnovers will decide again the winner of the third battle."
Joan Plaza (Real Madrid): "In Athens, we showed that we can compete against a roster as strong as that of Olympiacos, which means we can be confident in ourselves. I think we deserve to win this third game, but to do so it's very important that we don't think of the fourth or fifth one. We have to go step by step, although as I said, I believe it would be fair that we, due to the effort we made in the two previous games, win this one on Tuesday. The atmosphere in the stands will also be important, that are fans are together as one, cheering the team so it gets its first win in the series."
Zeljco Obradovic (Panathinaikos): 
"We prepared for Game 3 against Montepaschi Siena with the highest concentration and that is how I want to see my players behave at the Palasports. The upcoming games are expected to be very difficult like the previous two we played in Athens, as both teams have great quality and want to take the ticket to the Final Four. We watched Game 2 with big attention and realized that we stopped competing after 27 minutes, wasting a 16-point lead. This time we have to play aggressively for 40 minutes in order to get the home-court advantage back. We respect Montepaschi as a team, but we strongly believe that we can beat them and take the lead. With good defense and rebounding, I think we can make it there.
Simone Pianigianni (Siena): "We know perfectly that it will be another tough game, because Panathinaikos is a team built to win the Euroleague and they can win anywhere. They will arrive in Siena ready to put on the court all their skills and pride, and confidence that they can make a great result. We must to play better than in Game 2 if we want to win again. We achieved something amazing in Athens, but our goal is to take another big step on the way to the Final Four. I hope that we'll have a better shooting percentage playing on our home court."
Dusco Ivanovic (Tau): "I'm sure that Juan Carlos Navarro will play against us. We are preparing the game expecting that he is going to play. We expect a full roster tomorrow. There is a big margin for improvement in our team. We did a lot of things poorly in the second game. It was not a matter of little details. We need to improve a lot of thing before thinking that little details can decide the game. Tau always plays with a lot of pressure, no matter if it plays at home or on the road. I prefer to play at home, always. I don't think the game can be decided in the first quarter, both teams will need a lot of patience to play hard for 40 minutes."

Xavier Pascual (Barcelona):
"We face Game 3 in a good situation. Even when we have players with small injuries, we are mentally ready to face Tau Ceramica in Vitoria. We are ready to overcome adversity, and I am not talking directly about their fans. I know that any of their baskets can generate euphoria. This is why we have to know how to control the game tempo. We managed to tie the series and take a step forward in our chances to win the series. We were able to fight against the negative feeling that comes with an opening-game loss. Tau may play more up-tempo, taking quick decisions on offense. We have to control the game tempo to prevent the game from being very fast. Tau may add some alternatives. I am not taking about zone defenses, but they may change their pick-and-roll."
Dusco Vujosevic (Partizan): "My team will try to conquer Game 3 with aggressive play. But if our series finished with 3-0 or even more in favour of CSKA I can say that Partizan's performance in Euroleague was excellent. First of all thanks to our players. But we are not giving up and we will give our best to continue in the competition. We were beaten twice in Moscow and my team is ready to react. We respect CSKA a lot and it would be real for them to go into semifinals but we have the right to believe."
Ettore Messina (CSKA Moscow): "We try not to think about the two games we played in Moscow to concentrate better on the tough game that we will surely have on Tuesday. Defense and rebounding will be as always the main factors in the game and we can predict that the opponents will try to make some changes to increase their chances."
Basketball Coach Ενότητες Άρθρων