Sito Alonso will teach in Veroia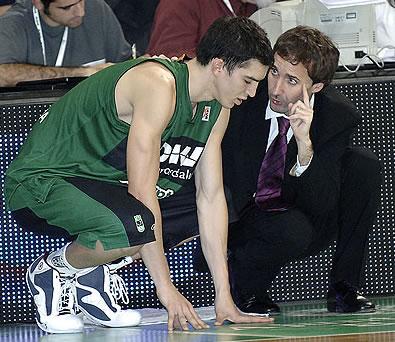 Sito Alonso, one of the youngest and most successful Spanish coaches, was invited by the Greek Basketball Coaches Association in order to teach in the International Baskeball Clinic for Young Players in Veroia (13-14 of June).
Alfonso Alonso Blasco (his full name) has been for the last three years the assistant of Aito Reneses in Joventut Badalona. He has worked with and elevated some of the great talents of Spanish basketball, such as Ricky Rubio and Rudy Fernandez.
He was a natural born… coach. Despite the fact he is only 33 years old he has put up many years of experience at the bench. He started his career is Zaragoza, before even he had finished school.His first coaching experience was the school team of Compania de Maria. From a young age he worked at the junior teams of Zaragosa and Monzon. From 2005 until the last season we was a member of Badalona's coaching staff.
He has won two European titles (Eurocup in 2006 and ULEB Cup in 2008), the "Copa Del Ray" (2008), Catalonia Cup (2006) with Badalona and he has celebrated many titles in the local leagues of Aragonia, where he is considered the most successful coach in recent history.