Patras's turn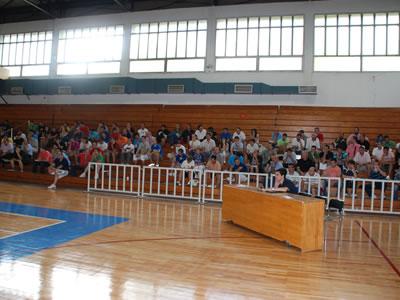 The Greek Basketball Coaches Association organizes on the 20th and the 21st of June the 10th International Clinic for Young Players in Patras, with the ambition that the success from Veroia will continue in the capital of Achaia.The 9th International Clinic for Young Players with Giannis Sfairopoulos, Steve Spencer and Sito Alonso, was characterized by the interesting lectures and a dynamic attendance.
The same is expected to happen in Patras, where the lecturers will be the former national team's coach Kostas Petropoulos, the assistant coach of Siena Luca Banchi, the ex coach of Apollonas and Olympiadas Giannis Christopoulos and the American coach Steve Spencer.
Individual practice and the fundamentals in defense and offense are the key points in which the four lecturers will talk about, giving their knowledge and experiences over the Greek coaches who will show in the gym of Esperos.
Here you can find the
nformation
, the
program
and the
bios
for the 10th International Clinic for Young Players.
Basketball Coach Ενότητες Άρθρων