Kostas Flevarakis in AEK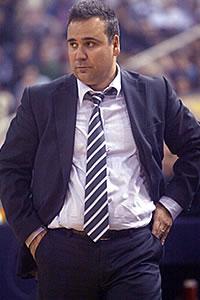 Kostas Flevarakis is the new coach of AEK, while the "yellow-black" B.C. announced on Wednesday's afternoon the agreement.
"The proposal of AEK is an honor for me, that's why I accepted it. Now all together, the coaching staff, the administration, the players and the fans will try to raise the team from its difficult spot. We will try to make the best choises regarding the transactions, so that we can creat a good team. We need the support of our fans, because I think that they are the key for a sucessful year" he noted.
He was born in Thessalonica on 24 May 1969 and from a young age, he started working in the youth teams of PAOK. He became a member of the technical staff of first team in 1995. In PAOK he worked with great coaches , such as Misel Gomez, Skot Skiles, Svi Serf and Petar Skanzi.
He was promoted to head coach of PAOK for the first time during season 1998-99, succeeding Svi Serf. He led PAOK to the conquest of the Greek Cup, the team's last title. He was only 30 years-old, so he became the youngest coach that conquers the Greek Cup.


He was the assistant coach of Petar Skanzi in the beginning of season 1999-00, but he returned the head coach position he led PAOK in the play off finals, beating Olympiakos (despite the opponents home advantage). He left PAOK during season 2000-01 and came back, after seven years, in December 2007.


Meanwhile, Kostas Flevarakis was named head coach of Panellinios (2002-03), Swedish Akropol (2004-05), Keravnos Nicosia (2005-06) with which he conquered the Cyprus Cup, Macedonikos (2006-07) and Polish Polpak (2006-07). From 005 he is the head coach of the Swedish national team. .