Gershon is back in Maccabi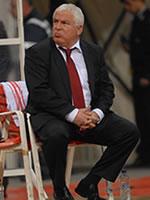 Pini Gershon returned home! The former coach of Olympiakos will sit again in the bench of Maccabi Tel Aviv for the next 2 ½ years. He will replace Effi Birnbaum, who paid the price for the unlucky results of the team in the Euroleague and mainly in the Israeli League.
"Pinhas" had a glorious career with Maccabi, winning three times the European championship (Suproleague in 2001 and Euroleague in 2004 and 2005). It is his second return, as he had left the bench for one year (2001-2002), giving his place -temporally- to David Blatt.
Basketball Coach Ενότητες Άρθρων